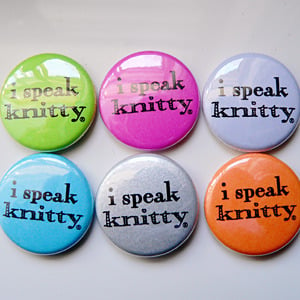 $

0.50
Let your customers know they're in a Knitty-friendly establishment. Get buttons for you and your staff and proudly proclaim your Knitty knowledge.
A place where the word Clapotis means 3 skeins of drop-stitch gorgeousness.
A place where a womb is something that can be knit, and you'll show them how.
A place where they can find directions to Lizard Ridge, Nob Hill, Banff, Kyoto, Yosemite, Tahoe, and even the Astrodome!
Buttons are 1" in diameter, and come in hojo turquoise, flaming raspberry, orange sherbet, silver, lime and pale lilac. Let us pick the colors for you!